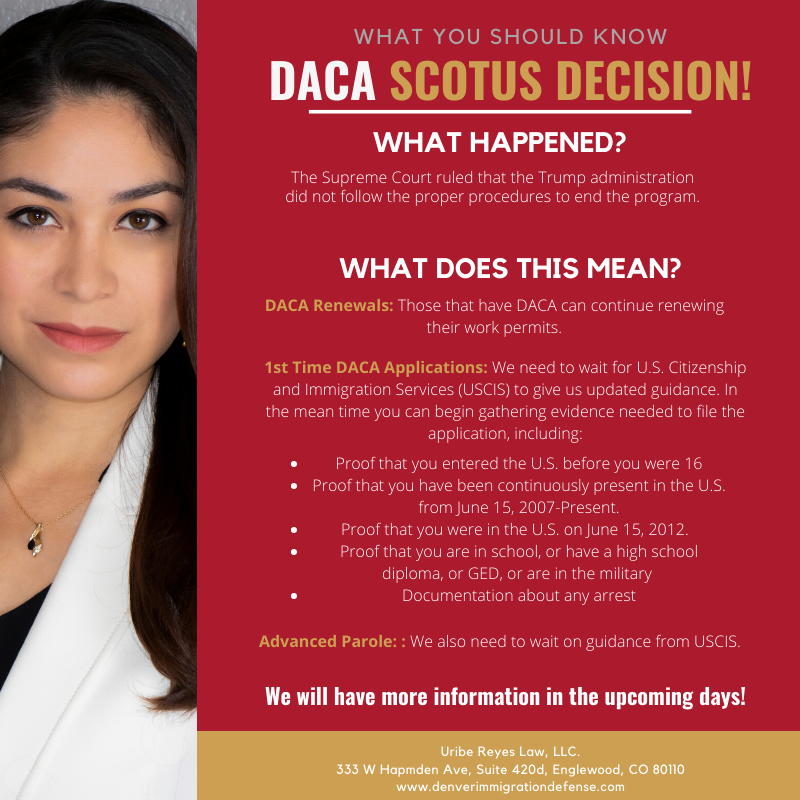 DACA SCOTUS DECISION
DACA SCOTUS DECISION!
What happened? The Supreme Court ruled that the Trump administration did not follow the proper procedures to end the program.
 What does this mean?

DACA Renewals: Those that have DACA can continue renewing their work permits.
1st Time DACA Applications: We need to wait for U.S. Citizenship and Immigration Services (USCIS) to give us updated guidance. In the mean time you can begin gathering evidence needed to file the application, including:

Proof that you entered the U.S. before you were 16;
Proof that you have been continuously present in the U.S. from June 15, 2007-Present.
Proof that you were in the U.S. on June 15, 2012.
Proof that you are in school, or have a high school diploma, or GED, or are in the military
Documentation about any arrest.

Advanced Parole: We also need to wait on guidance from USCIS.
We will have more information in the upcoming days!
DECISION SOBRE DACA
¿Que paso? La Corte Suprema fallo que la administración de Trump no siguió los procedimientos adecuados al intentar cancelar el programa de DACA.
¿Esto que quiere decor?

Renovación de DACA: Los que ya tienen DACA pueden seguir renovando sus permisos de trabajo sin interrupción.
Solicitantes de DACA por primera vez: En este momento no tenemos una respuesta de que va a pasar con las personas que nunca obtuvieron DACA y ahora califican. Necesitamos esperar que nos den mas información. Por el momento, aquellos que califican pueden ir reuniendo documentos para su aplicación, estos incluyen:

Comprobante que entraron a los E.E.U.U. antes de los 16 años;
Comprobantes que han estado en los E.E.U.U. desde el 15 de junio del 2007 hasta el presente;
Comprobantes que estaban en los E.E.U.U. el 15 de junio del 2012;
Comprobante que están en la escuela, o que terminaron la high school, o que terminaron su GED, o que están en el ejercito.
Documentos sobre cualquier arresto.

Documento para Viajar/Advanced Parole: Aun necesitamos esperar para mas información.
Tendremos mas información en los próximos días.